The Last Wanderers of Solomon Kane
London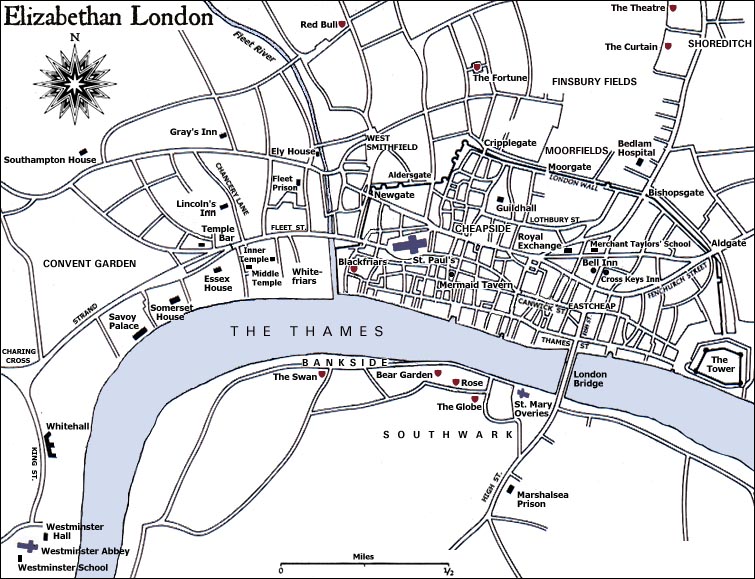 Points of Interest
Bethlem Hospital: Located on Bishopsgate Street which exits the city this building is a hospital dedicated entirely to the housing the insane. The hospital is composed of several buildings, the largest is a church that was once a part of a priority for the Order of the Star before the 14th century. Attached to the eastern side of the church with the ten foot high stone walls of the compound where the insane inmates live. There are two dormitories where the general population live with a small garden dividing the them. Behind the dormitories are the treatment rooms and staff quarters in a nicer but equally grim building.
Persons of Note:
Dr. Tyne, Doctor of Medicine,
Bell Inn:
Cross Keys Inn:
Crowne's Print Shop: Located at the heart of the city. Form the outside it appears like any other of the tiny buildings on narrow London street. Inside the shop are two Guttenburg printing presses that dominate the floorspace. The floor itself littered with scraps of paper that shuffle about as workers pull and move typeface and cut and size pages.
Persons of Note:
Thomas Crowne, Printer, a thin man with glasses.
Essex House:
Fleet's Prison:
Lincoln's Inn:
London Guildhall:
Merchant Taylors' School:
Mermaid Tavern:
Quill's Books, Antiques, & Scribe: This is a small two story shop where the curious and business is conducted on the lower floor with a small apartment is has been setup by the proprietor above not uncommon in for many urban artisans.
Persons of Note:
Harmonius Quill, Antiquarian, he is know by his neighbors and business partners as a intelligent, warm man who enjoys ancient tomes and books of peoples from long ago.
Royal Exchange:
St. Paul's Cathedral:
Southampton House:
Summerset House:
Tower of London: This is actually a large fortress containing concentric walls with several independent buildings. One of the buildings within the walls are the Norman Chapel.
Whitehall:
Stories, Rumors & Gossip
"I swear to God, just one wrong step and I fell through a hole, and the chambers I found went on for miles! I'm lucky I ever made it out of Paris at all."
Adventures
Bedlam: The Savage Foes of Solomon Kane page XXX
The Fading Scent of Gunpowder: The Path of Kane page 26